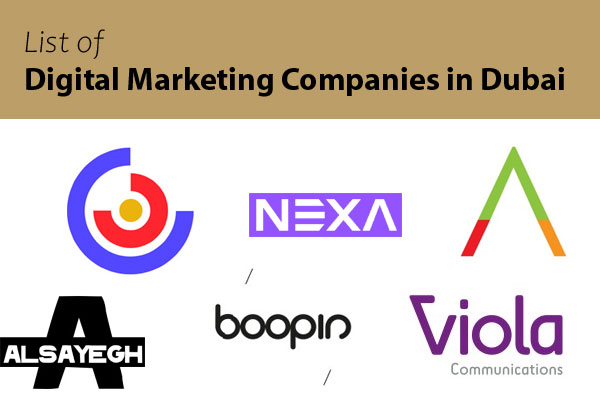 List of Digital Marketing Companies in Dubai, UAE.
Alsayegh
Advertising company in Dubai, UAE. Independent Creative Marketing and Live Experience Agency.
Specialties : Social Media Marketing, Creative Management, Content Development, Digital Development, Animation, Event Management, Audio & Video Production, Public Relations, and Media Buying.
Address :
64D, International Media Production Zone (IMPZ), Dubai, 390077, AE
304, Building No. C29, Sh. Zayed Road, Abu Dhabi, 105606, AE
+971 4 444 1000 (Dubai)
+971 2 449 9555 (Abu Dhabi)
+971 50 65 70757 (Hotline)
Visit website : alsayegh.com | LinkedIn
Viola Communications
Middle East's pioneering fully integrated marketing and communications solutions.
Specialties : Advertising, media planning and buying, Public relations, Social Media, Digital, Events planning and management, Production & post-production house, Planning Consultancy, Exclusive agent for lamppost & bridge banners, Fully-integrated communications solutions, and Out of Home Media.
Address :
Abu Dhabi, UAE
Twofour54 Park Rotana offices building, 4th floor
+971 2644 94 44
Dubai, UAE
Arjaan Office Tower,
Office 601, 6th floor, Dubai Media City, AE
+971 4449 41 01
Visit website : www.viola.ae | LinkedIn
SOCIALEYEZ
Social Media Marketing Agency HQ in Dubai with branches in Cairo & Beirut.
Specialties : Social Media Measurement, Social Media Analysis, Social Media Engagement, and Social Media Strategies.



Address :
Office 419, Le Solarium Building,
Dubai Silicon Oasis, Dubai,
United Arab Emirates
Phone : +971 4 356 4238
Visit website : social-eyez.com | LinkedIn
Boopin
An award winning digital marketing agency in Dubai. One of the fastest-growing local and global digital media agency, with HQ in Dubai, and operational offices in Abu Dhabi, Riyadh, Cairo, Shanghai, Singapore, Bangalore, and Tirana.
Specialties : Brand Management & Development, Advertising – ATL/ BTL, creative concepts – execution, Strategic & Tactical Marketing Plans, Web Design & Development, Mobile App Development, Programmatic, Digital, Data, Social Marketing, Content Marketing, Chinese Digital Marketing, Chinese Social Marketing, Ui / UX, Programmatic Advertising, and Media Buying.



Address :
HQ : Jumeirah Lake Towers, Cluster Y, JBC3, 3401, Dubai, Po Box 112587, AE
Abu Dhabi Branch : Hamdan Bin Mohammed Street, Level 17 – 1701 , Al Markaziyah, Abu Dhabi, AE
Phone: +971 4 425 5365
Visit website : www.boopin.com | LinkedIn
BeOnTop
Intelligent Digital Marketing and SEO Company in Dubai. Premier Google Partner in the Middle East. Google Ads, Social Media Marketing, Analytics, Programmatic, SEO, PPC and SMM Experts in the UAE. Seven branches across four countries within the United Arab Emirates (UAE), United Kingdom (UK), Russia and Kyrgyzstan.
Address : Jumeirah Lakes Towers, Cluster T, Office 701, Dubai, Dubai 643782, AE
Phone: +971 4 554 7316
Visit website : www.beontop.ae | LinkedIn
Nexa – Digital Marketing
HubSpot Diamond Partner & Premier Google Partner. Helping businesses grow by using best in class technology and strategy. Offices in DUBAI, Riyadh, MELBOURNE, NEW YORK, and MANCHESTER.
Specialties : Digital Strategy Creation, Website Design & Development, Lead Generation & Sales Campaigns, Brand Awareness & Visibility, Content Creation & Distribution.



DUBAI Office :
1205, Grosvenor Business Tower, P.O. Box: 123439, Tecom, Dubai, UAE
Tel: +971 52 104 6938
Whatsapp: +971 52 869 2447
[email protected]
Visit website : www.digitalnexa.com | LinkedIn
GLMA Agency
Digital marketing agency in Dubai, helping you achieve your marketing goals in cost-effective way.
Address:
Sama Tower – Office 201 2nd Floor – Sheikh Zayed Rd – Trade Centre – Trade Centre 1 – Dubai – United Arab Emirates
Phone: +971 4 382 7816
Visit website : glmaagency.com | LinkedIn