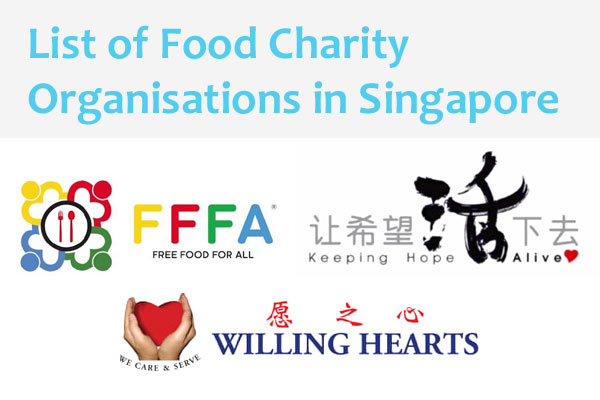 List of Food Charity Organisations in Singapore.
Willing Hearts
A secular, non-affiliated charity, Willing Hearts is wholly run by volunteers, Willing Hearts operates a soup kitchen 365 days a year, that prepares, cooks and distributes about 9,500 daily meals to the needy in Singapore.
Address :
11 Jalan Ubi, Kembangan-Chai Chee Community Hub,
Blk 6 #01-51, Singapore 409074
Phone : +65 6476 5822
Email : [email protected]
Website : willinghearts.org.sg | Facebook
Keeping Hope Alive Singapore
Every Sunday, Keeping Hope Alive visits low-income families living in rental flats to provide assistance. Behind every door is a story. Join as a volunteer to give hope and love.
Keeping Hope Alive Volunteers 让希望活下去义工 Facebook | Keeping Hope Alive 让希望活下去 Facebook
Free Food for All (FFFA)
Free Food For All ( FFFA) is a Registered Charity in Singapore that serves the less privileged of all race and religions. Serve the nutritional needs of individual families and provide empowerment campaigns.
Founded by Mr. Nizar Bin Mohd Shariff, Free Food For All was established in 2014 with the objective of delivering Halal-certified food and groceries. The charity organisation has been feeding thousands of less fortunate individuals, no matter their race or religion. However, all food items donated must be Halal-certified.
FFFA's Profile on giving.sg's website. Want to donate food ? you can fill up this Google Form.
Address :
Free Food For All Ltd
21 Chai Chee Road #01-430
Singapore 461021
Phone : 8769 3947 / 8769 3463
Email : [email protected]
Website : www.freefood.org.sg | Facebook | Instagram
TOUCH Community Services Ltd
TOUCH Community Services is a registered not-for-profit charity organization in Singapore, providing services to individuals from all religions and races, be they a child or youth at-risk, a family in need, a person with special or healthcare needs or a senior.
Address :
Blk 162 Bukit Merah Central, #05-3545,
Singapore 150162
Phone : (65) 6377 0122
Fax : (65) 6377 0121
Email : [email protected]
Website : www.touch.org.sg | Facebook | Instagram
Children's Society Singapore
Singapore Children's Society protects and nurtures children and youth of all races and religions, especially children, youth and families in need.
Address :
210 Middle Road #05-03, Singapore 188994
Phone : +65 6273 2010
Email : [email protected]
Website : www.childrensociety.org.sg | Facebook | Instagram
FoodBANK Singapore
A registered charity founded in 2012. It's mission is to end food insecurity in Singapore through redistribution of food to more than 360 member beneficiary organisations.



Photo: The Foodbank Singapore (Facebook)
Address :
The Foodbank Singapore Ltd
218 Pandan Loop, XPACE
Singapore, 128408
Phone : +65 9855 4805
Email : [email protected]
Website : foodbank.sg | Facebook | Instagram
Food From the Heart Charity Singapore
FFTH is an independent non-profit charity organisation established in February 2003, that aims to feed the needy through its food distribution programmes.
Address :
130 Joo Seng Road, #03-01, Singapore 368357
9am till 6pm, Mondays to Fridays
(Excluding Public Holidays)
Phone : +65 6280 4483
Email : [email protected]
Website : www.foodfromtheheart.sg | Facebook | Instagram