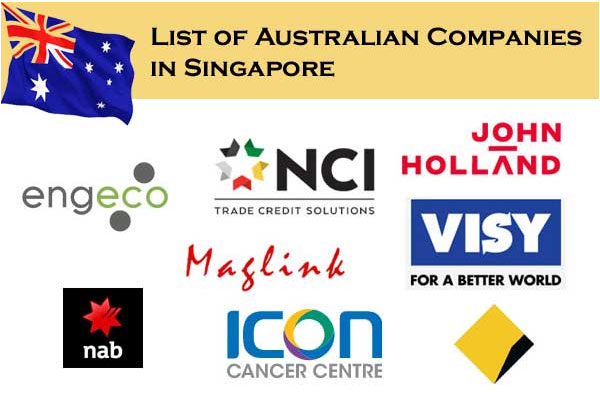 List of Top Australian Companies in Singapore.
National Australia Bank Limited, Singapore Branch


Address :
12 Marina View
#20-02 Asia Square Tower 2
Singapore 018961
Tel : +65 6419 7000
Fax : +65 6336 0067
General enquiry email : [email protected]
Service hours : 9:00 am – 4:30 pm Monday to Friday
Website www.nab.com.au.
Maglink International Pte. Ltd
Founder, Managing Director : Brian Ahern.
Founded in 1990, Maglink specialises in both OEM / Private Label and distribution of international brands, being the premium source for Smartphones, Tablets, Rugged devices and Memory Products under OEM and Private Label.



Address :
Bukit Timah PO Box 290, Singapore 915810
Phone : +65 6224-4701
Fax : +65 6466-4460
Email : [email protected]
Website www.maglink.com.sg
engeco Pte. Ltd.
Marc Allen – Founder & Technical Director
engeco is a Singapore based management consultancy providing advisory services primarily in energy and greenhouse gas management and strategy across the Australasian region. Specialising in sustainability, energy management and climate change risk. engeco helps businesses understand what are the risks and opportunities associated with climate change and the transition to a net zero carbon, circular economy; to develop robust strategies to thrive through the changes that are currently under way.



Address :
1 North Bridge Road, #08-08
High Street Centre, Singapore 179094
Tel : +65 9107 8035
Email : [email protected]
Website www.engeco.com.au.
John Holland Pty Ltd
Australia based Construction Company in Singapore.



Address :
Regional Office, South East Asia
200 Newton Road, #05-01, Newton 200,
Singapore 307983
Tel : 6357 9700
Fax : 6264 7208
Website www.johnholland.com.au
NCI Brokers (Asia) Pte Ltd
Credit Insurance Broker in Singapore. NCI offers a complete range of trade credit services helping clients to safeguard their business from bad debts and to integrate better credit management practices.
Products : Trade Credit Insurance, Surety/Performance Bonds, Credit Services.



Address :
The Central,
8 Eu Tong Sen Street #23-84,
Singapore 059818
80 Anson Road
#26-04 Fuji Xerox Towers
Singapore 079907
Tel : +65 6221 1512
Email : [email protected]
Website ncib.sg
VISY
Melbourne, VIC based Australian multinational company in Singapore. Visy is a global leader in fully integrated packaging and resource recovery solutions.
Visy Industries :
– Build Run Repair : #11-01, Suntec Tower 3. Ph: +65 6681 4650
– Logistics (Global, SG) : #11-01, Suntec Tower 3. Ph: +65 6681 4600
– Visy Trading Singapore Pte Ltd (Pulp & Paper) : #11-01, Suntec Tower Three. Ph: +65 6681 4600
– Visy Trading Singapore Pte Ltd (Recycling) : #11-01, Suntec Tower Three. Ph: +65 6681 4600



Address :
Visy Singapore Headquarters Pte Ltd
#11-01, Suntec Tower Three Singapore,
8 Temasek Blvd, Singapore 038988
Phone : +65 6681 4600
Website www.visy.com.au
Icon Group / Icon Cancer Centre
Based in Brisbane, QLD, Australia. Icon Group is Australia's largest dedicated provider of cancer care with a growing reach into New Zealand and Asia.
Icon Group's cancer care services in Singapore are delivered by Icon Cancer Centre (previously SOC – Singapore Oncology Consultants) and an experienced group of experts in medical oncology, haematology and radiation oncology.
Icon Cancer Care Centres in Singapore.



Address :
Icon Cancer Centre – Singapore
Registered Office Address :
1 Robinson Road #17-00 AIA Tower Singapore,
Singapore 048542
Tel : +65 6255 0528
Email : [email protected]
Website iconcancercentre.sg | icongroup.global
Commonwealth Bank Singapore
Commonwealth Bank Singapore was established in 1982 and offers a comprehensive range of financial services to multinationals from Australia and New Zealand with a presence in Asia. In addition, the office provides solutions to Asian institutional clients who'd like to expand into Australia and New Zealand as well as private banking services to local and expatriate professionals.



Address :
Singapore branch
38 Beach Road South Beach Tower #07-11
Singapore 189767
Phone : +65 6349 7000
Website www.commbank.com.au
ComCrop, Singapore
Singapore's first and only commercial rooftop farming company.
Co-Owner & CEO : Peter Barber



Address :
15 Woodlands Loop, Singapore 738322
Website comcrop.com
Tenant CS Private Limited
Tenant CS is an Asia-Pacific-based, conflict-free tenant representation services company, independent of third parties such as landlords and real estate agents. Sourcing the perfect office, industrial, warehouse or retail space to suit your business needs, and negotiating the best commercial lease terms on your behalf.
Managing Director : Tim Green



Address :
SBF Center, Robinson Road, #27-08 160,
Singapore 068914
Phone : +65 6100 0011
Email : [email protected]
Website www.tenantcs.com
Toll Group
Based in Melbourne, VIC.
Business type : Transportation, Logistics, Supply Chain and Storage.
Toll Headquarters
5 Clementi Loop Singapore 129816
Regional Facility
Toll City 60 Pioneer Road Singapore 628509
www.tollgroup.com/locations/asia-pacific/singapore
Australian Organisations In Singapore :
Tourism Australia
Address :
101 Thomson Road, #08-03 United Square, Singapore 307591
Tel: (65) 6255 4555
Fax: (65) 6253 8431
Tourism Australia Website www.australia.com.
The Australian New Zealand Association (ANZA)
Address :
69A Boat Quay, Singapore 049857
Tel: (65) 6438 4373
Fax : (65) 6438 2158
ANZA Website anza.org.sg