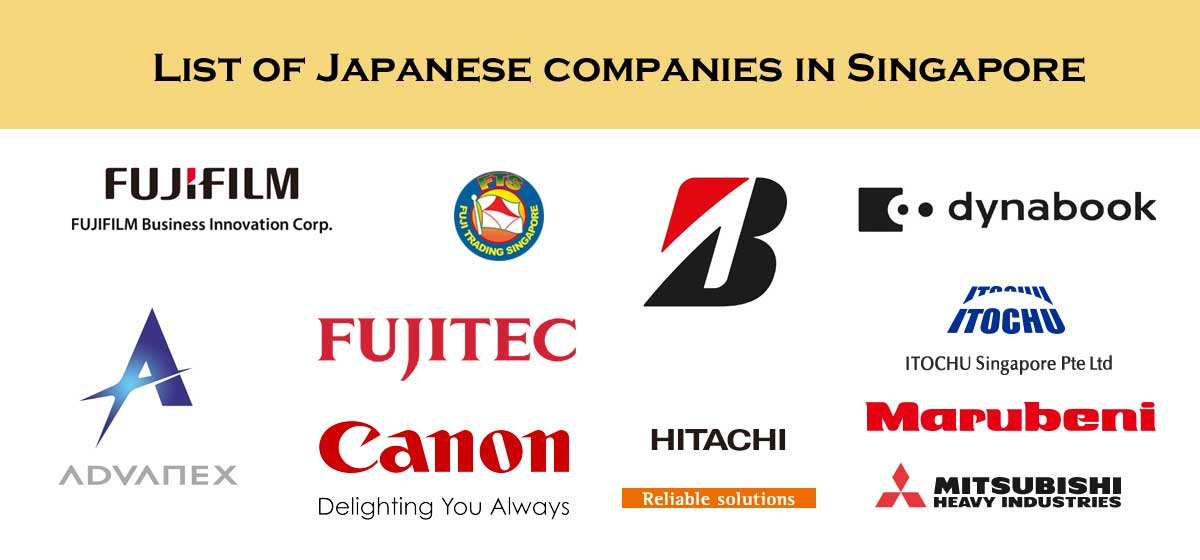 List of Japanese MNC Companies in Singapore :
Find here a comprehensive list of Japanese multinational companies doing business in Singapore.
Advanex (Singapore) Pte. Ltd.
A Global Precision Engineering MNC with more than 40 years of operations in the region and 8 manufacturing site worldwide. Regional headquarter located in Singapore. Developing, manufacturing high quality products for Automotive, Pharmaceuticals & Medical, and Consumer Electronics.
Address : 2306 Bedok Reservoir Road, Singapore 479224, Republic of Singapore
Phone : +65-6448-8639  
Fax : +65-6448-1207
Website : advanexasia.com | www.advanex.co.jp
Panasonic – A Japanese-based electronics company
Bridgestone – A Japanese-based automotive and tire manufacturer
Fujitec Singapore Corporation Ltd.
A subsidiary of Fujitec Co Ltd (Japan), is the leading Elevator Company in design, manufacturing, installation and services.
Address :
204 Bedok South Avenue 1 Singapore 469333
Phone : +65 62416222
Email : fujitec.fsp[at]sg.fujitec.com
[at] = @
Website : fujitec.com.sg
FUJIFILM Business Innovation Asia Pacific Pte. Ltd
FUJIFILM Business Innovation Corp. offers copying machines, printers, multifunction devices and document management solutions in Asia Pacific area.
Address :
Customer Experience Centre
20E Pasir Panjang Road #02-21A Mapletree Business City
Singapore 117439
Customer Support Centre : Hotline: 6766 8888
Website : www.fujifilm.com/fbsg
Fuji Trading (S) Pte. Ltd.
Fuji Trading Singapore (FTS) is a wholly owned subsidiary of Fuji Trading Co. Ltd (FTC), a leading Japanese ship-supply company. Fuji Trading Singapore (FTS) offers a diverse portfolio of services and products to suit all maritime requirements. These range from the supply of marine equipment and technical stores, victuals and bonded goods, to engineering works and maintenance operations.
Address :
Fuji Trading Singapore Pte Ltd
24 Chia Ping Road
Singapore 619976
Tel: (65) 62641755
Fax: (65) 62650443
Email: info[at]fujifts.com
[at] = @
Website : www.fujifts.com
CANON SINGAPORE PTE. LTD.
Address :
Canon Singapore Pte. Ltd.
1 Fusionopolis Place, #14-10 Galaxis
Singapore 138522
Canon Customer Care Centre
1 Fusionopolis Place, #02-20 Galaxis (West Lobby)
Singapore 138522
Hours :
Monday to Friday 10:00am – 7:00pm
Saturday 10:00am – 2:30pm
Closed on Sunday and Public Holidays.
Sales Hotline 6-TO-CANON (6-86-22666)
Service Hotline 6799 8686
Main Line 6799 8888
Website : sg.canon
Bridgestone Tyre Sales Singapore Pte Ltd.
Bridgestone Tyre Singapore, distributes Bridgestone brand tyres for Passenger Cars, Commercial Trucks & Buses, Light Trucks & Vans, Forklifts, Farm Services, Motorcycles & Racing Karts.
Address :
83 Clemenceau Avenue #08-01/08, UE Square Singapore,
Singapore 239920
Website : www.bridgestone.com.sg
Dynabook Singapore Pte. Ltd.
main office address:
438B Alexandra Road, #06-02, Alexandra Technopark,
Singapore 119968
+65-64193388 | +65 6419 3420
email address: grace.wong@dynabook.com
willie.tan@dynabook.com
Website : asia.dynabook.com
Hitachi Construction Machinery Asia and Pacific Pte. Ltd.
Address :
2 Pioneer Walk Singapore 627856
Phone : +65 6265-2377
Fax : +65 6266-0825
Website : www.hitachicm.com.sg
ITOCHU Singapore Pte Ltd
ITOCHU Singapore, an international trading house of ITOCHU Corporation in Japan (a Global Fortune 500 Company). Markets and distributes industrial machinery, chemicals, food products, and paper material.
Address :
6 Shenton Way #22-08
OUE Downtown 2
Singapore 068809
Tel : 65-6230-0500
Fax : 65-6230-0560
Website : www.itochu.com/sg
Marubeni ASEAN Pte. Ltd. / Marubeni Singapore Pte. Ltd., Asset Management Arm.
Marubeni Corporation is a major Japanese integrated trading and investment business conglomerate that handles products and provides services worldwide.
Major products and businesses : Exports, Imports, Trilateral, Domestic. visit the following website link for more details.
Address :
138 Market Street, #31-01 CapitaGreen,
Singapore 048946, Singapore
TEL : 65-6220-4111
FAX : 65-6225-3051
Website : www.marubeni.com
Mitsubishi Heavy Industries Asia Pacific Pte. Ltd.
Mitsubishi Heavy Industries Ltd. (MHI), is a global multisectoral Japanese engineering, electrical equipment and electronics corporation headquartered in Tokyo, Japan. Offers services and solutions in the thermal, nuclear and renewable energy industries and the commercial aviation and transportation systems and provides industrial machinery, equipment and infrastructure, and integrated land, sea, air and space defence systems.
Address :
150 Beach Road, #29-00 Gateway West,
Singapore 189720
Telephone : 65-6305-5200
Fax : 65-6396-5871
Website : www.mhi.com
Mitsui & Co. (Asia Pacific) Pte. Ltd.
Mitsui & Co., Ltd. is one of the largest trading and investment companies in the world. Mitsui & Co. (Asia Pacific) Pte. Ltd. operates in 9 business areas including: Iron & Steel Products, Mineral & Metal Resources, Infrastructure Projects, Mobility, Chemicals, Energy, Food & Retail, Consumer Service and Innovation & Corporate Development.
Address :
12 Marina View, #31-01 Asia Square Tower 2,
Singapore 018961
Phone : (65) 6321-3111
Fax : (65) 6224-3458
Website : www.mitsui.com/ap
Mitsui Chemicals Asia Pacific, Ltd.
Japanese multinational chemical manufacturer and one of the largest chemical companies in Japan.
Businesses & Products : Marketing of products in the fields of Functional Chemicals, Polymeric Materials, Films and Polyethylene.
Address :
3 HarbourFront Place #10-01 HarbourFront Tower 2
Singapore 099254
Tel : +65-6534-2611
Fax : +65-6535-5161
Website : ap.mitsuichemicals.com
Mori Hamada & Matsumoto (Singapore) LLP
Chiyoda-ku, Tokyo based Japanese multinational law firm. The firm's Singapore Office has a multinational team of lawyers from Japan and other countries who offer a wide range of support for the business activities of companies in Singapore and other Southeast Asian and South Asian countries.
Address :
1 Raffles Quay
#23-03 One Raffles Quay North Tower
Singapore 048583
Contact
TEL: +65-6593-9750  
FAX: +65-6593-9751
Website : www.mhmjapan.com
MSIG Asia Pte Ltd
MSIG is Asia's leading general insurance brand.
Address : (Regional office)
4 Shenton Way, #27-01 SGX Centre 2,
Singapore 068807
Website: msig-asia.com
MSIG Insurance (Singapore) Pte. Ltd.
4 Shenton Way #21‑01 SGX Centre 2
Website: msig.com.sg
MS First Capital Insurance Limited
6, Raffles Quay, #21-00
Website: msfirstcapital.com.sg
MUFG Bank, Ltd., Singapore Branch
Tokyo based multinational MUFG Bank's regional headquarters, the Singapore office covers 13 countries across South Asia, Southeast Asia and Oceania where serves it's corporate and investment banking clients under the MUFG brand.
Address :
7 Straits View
#23-01 Marina One East Tower
Singapore 018936
Republic of Singapore
Phone : 65-6538-3388
Website : www.bk.mufg.jp
Murata Electronics Singapore (Pte.) Ltd.
Manufacturing and sales of electrical and electronics components (Multi-Layer Ceramic Capacitors) in Singapore and ASEAN regions, since 1972.
Address :
Murata Electronics Singapore (Pte.) Ltd.
200 Yishun Avenue 7, Singapore 768927
Tel : +65 6758 4233
Fax : +65 6753 6627
Murata Electronics Singapore (Pte.) Ltd. Tuas Plant
Address : 1 Tuas Road, Singapore 638481
Phone : +65 6861 8686 | Fax : +65 6861 1344
Website : www.murata.com/en-sg
N.P. Foods (Singapore) Pte. Ltd.
N.P. & COMPANY INC. (http://www.nposk.com)
N.P. Group Singapore ( Head Office )
No. 1 Woodlands Link Singapore 738719
Tel : +65-6756-2777
Fax : +65-6756-2555
Email : nps-sin@npsin.com
Website : www.np-sin.com | npsin.com/japan
Nagashima Ohno & Tsunematsu Singapore LLP
Legal service company. Practice areas in the Singapore office includes contractual matters, cross-border M&A, establishment of subsidiaries and joint ventures, real estate projects, energy infrastructure projects, dispute resolution including international arbitration, finance, employment, and so forth.
#41st floor Bank of China Building
6 Battery Rd, Singapore 049909
Tel : +65-6654-1760
Fax : +65-6654-1770
Website : www.noandt.com/en/
Nishimura & Asahi (Singapore) LLP
Japanese Multinational Law Firm in Singapore. Nishimura & Asahi is Japan's leading and largest law firm with over 600 lawyers spanning across 16 global offices and alliances.
Address :
79 Robinson Road #14-01, Singapore 068897
Tel:+65-6922-7670
Website : www.nishimura.com
Olympus Singapore Pte Ltd
For more than 100 years, Olympus is passionate about creating customer-driven solutions for the medical, life sciences, and industrial equipment industries. headquartered in Tokyo, Japan, with more than 35,000 employees worldwide in nearly 40 countries and regions.
Business Fields : Endoscopic Solutions, Therapeutic Solutions, and Scientific Solutions.
Address :
438B Alexandra Road #03-07/12, Alexandra Technopark Blk B,
Singapore 119968
Phone : (65) 6834-0010
Website : www.olympus.com.sg
Panasonic Group Companies in Asia Pacific
Panasonic Regional Companies in Asia Pacific : Panasonic Procurement Asia Pacific, Panasonic Logistics Asia Pacific, Panasonic Information Systems Company Asia Pacific, Panasonic Commercial Equipment Systems Asia Pacific, Panasonic Consumer Marketing Asia Pacific, Panasonic Connect Asia, Panasonic Factory Solutions Asia Pacific Pte Ltd, Panasonic Industrial Sales Asia Pacific, Panasonic Appliances Marketing Asia Pacific (Malaysia), Panasonic Appliances R&D Centre Asia Pacific Sdn. Bhd. (Malaysia), Panasonic Automotive Systems Asia Pacific Co., Ltd. (Thailand), Panasonic Connect Oceania (Australia).
Address of :
Panasonic Consumer Marketing Asia Pacific
202 Bedok South Avenue 1, #02-01,
Singapore 469332
Phone : +65-6299-8400
Fax : +65-6299-7600
Phone : (65) 6834-0010
Website : www.panasonic.com/sg
Pokka Corporation (Singapore) Pte. Ltd.
POKKA SINGAPORE is a leading beverage company in Singapore and Asia-Pacific.
Address :
POKKA PTE. LTD. 
39 Quality Road, Singapore 618810
Commercial Office
4 Benoi Crescent, Singapore 629970
1800-MY-POKKA (1800-69-76552)
Main Office: (65) 6395 9229
Fax: (65) 6261 3081
Website : www.pokka.co
IKARI Services Pte Ltd
Premium Japanese Pest control company in Singapore, Since 1976.
Address : 625 Aljunied Road, #03-07, Aljunied Industrial Complex, Singapore 389836
Phone : (+65) 6743 1313
Whatsapp : (+65) 3138 5301
Email : ask@ikari.sg
Website : ikari.sg